Robots and Mobile Platforms
Industrial and Collaborative Robots
Collaborative robots (or cobots) were very much in vogue at the messe, performing many and varied tasks including entertainment. The new range of lightweight robots (in prototype) LBR iisy from Kuka generated a lot of interest. Franka, the cool newcomer at last years HM, which is now available on the market in a research version, has formed a new company along with automation company Voith to operate as an robotics automation unit globally.  Of note were the number of Chinese cobots at the fair, as well as Chinese solutions for robotics, such as vision and bin picking. China has been the biggest single consumer of industrial robots for the last five years, and it would appear that the Government objective (Made in China 2025) to be world manufacturers of robots is beginning to show signs of at least going in the right direction.
Industrial robotics has grown and is expected to grow in double figures for the foreseeable future. The collaborative robot market is growing at a colossal 50% and it seems a new player comes to the market every month.
Universal Robots staff were delighted with the number of UR robots on other stands at the Hannover Messe 2018. To demonstrate a robotic concept, a collaborative robot at a fair is obviously a good choice, as it doesn't need a safety barrier (once a risk assessment has been performed). Also the ease of set up of the current generation of collaborative robots makes them a good choice for quickly setting up a POC on an exhibition stand.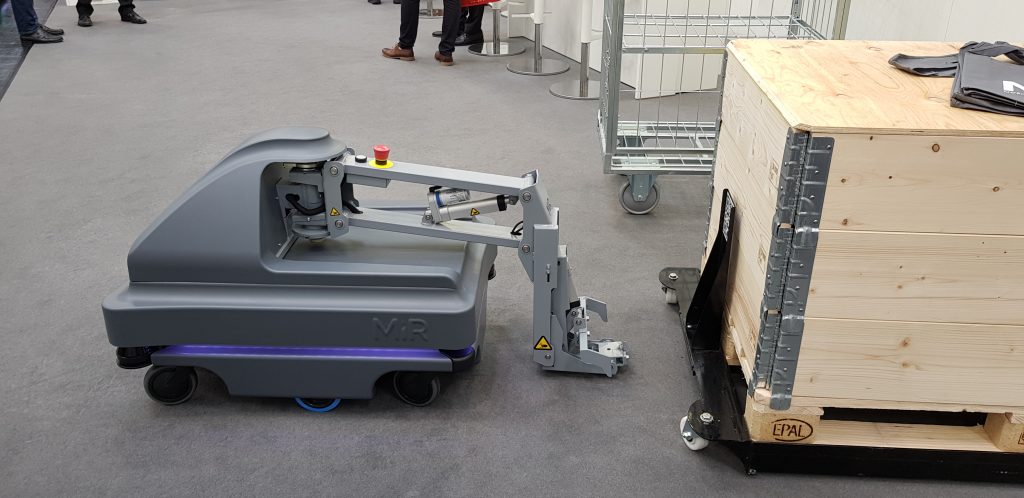 Mobile (Robot) Platforms
This years Hannover Messe was staged jointly with CiMAT, the logistics fair. Of note were the number of AGVs (Automated Guided Vehicles) and Mobile Robot Platforms on show. The distinction between the two may seem subtle, but the use cases can be very different. Automated Guided Vehicles have been around for some 30 years, and rely on floor mounted or laser navigation systems to find their way around, generally via fixed paths which may be more or lest costly to modify. The new generation of "Mobile Platforms" have autonomous navigation. Once the environment has been "learnt" by leading the robot around and marking limits, the robot can generally get around avoiding obstacles in its path if a way round the obstacle exists. Generally these mobile platforms can also work collaboratively, in that they can share the same floorspace (or elevator space) with human workers, and have simple and easy to deploy interfaces to the robot and the fleet management software. 
Teradyne and Mobile Industrial Robots (MiR) announced the sale of the latter to the former while the Hannover Messe was on. MiR is perhaps the best example of this new generation of Mobile Robot Platforms, which are increasing finding applications in large companies and SMEs alike.